Featured Publications
ISSN 2380-2235
Soundboard Scholar is the peer-reviewed journal of the Guitar Foundation of America. Its purpose is to publish guitar research of the highest caliber. Soundboard Scholar provides a forum for all fields of guitar scholarship, including historical research, historiography, music analysis, performance studies, and pedagogy. Especially welcome are articles that connect the guitar world with current trends in mainstream musical scholarship or that connect non-specialists to the knowledge and insights that scholarly inquiry has to offer.
See the Call for Articles for a complete description of the journal.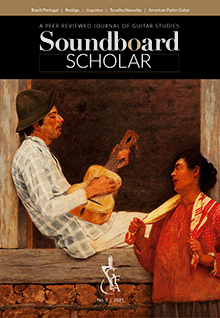 ISSN 2643-2099
The Liminal: Interdisciplinary Journal of Technology in Education
The Liminal is an open access peer-reviewed journal. All accepted submissions will be published on Digital Commons of the University of Denver.
The next edition of The Liminal is currently under consideration and is tentatively scheduled for Spring 2023.
The Liminal publishes open access peer-reviewed papers, case studies, reflections on current issues, reviews of books, reviews of games, comments on articles and discussions related to the mission of the journal. This online open access journal may remain in a state of perpetual beta just like technology and education are.
The publication language of the journal is English with selected pieces translated into French. We encourage inclusion of bilingual terms, quotes and references.
**The Liminal journal is officially indexed on UPenn.edu, CFPList, Paperleap, H-Net, BrownWalker, WikiCFP, and other calls for papers academic databases.